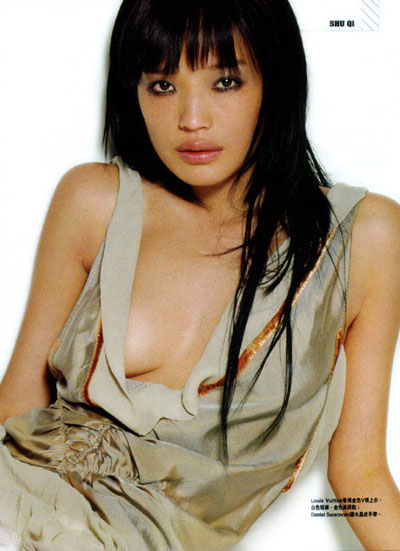 Shu Qi(born April 16, 1976) is the stage name of a Taiwanese actress born Lin Li-Hui (林立慧). Her stage name is occasionally romanized as Hsu Chi or Shu Kei (Cantonese). Her name is sometimes seen in the Western order as Qi Shu. Born to a financially challenged family in Sindian City, Taipei County, the young Shu Qi moved to Hong Kong at the age of 17 where she became a model for nude girls magazines and softcore movie shorts, but she never worked for porn entertainment. She eventually came under the management of Hong Kong producer Manfred Wong, who signed her on to several softcore Hong Kong films such as Sex & Zen II.
She starred in Derek Yee's 1996 film, Viva Erotica, which was about the erotic film industry in Hong Kong, opposite the late Leslie Cheung and Karen Morris. At the Hong Kong Film Awards, she received the Best Supporting Actress award for the film. Since then, she has appeared in mainstream Hong Kong films such as Gorgeous (1998) opposite Jackie Chan, Stanley Kwan's The Island Tales (1999) and Hou Hsiao-Hsien's critically acclaimed Millennium Mambo (2000).
In 1999, Ang Lee approached Shu for the role of Jen in Crouching Tiger, Hidden Dragon. Six weeks into filming, her manager, Manfred Wong, not foreseeing the film's massive international success, pulled her out to do a soft drink commercial in Japan, and the part went instead to Chinese actress Zhang Ziyi.
In 2002, she appeared in the Hollywood film The Transporter and the Asian action flick So Close. In 2004, she had a role in the Hong Kong horror film The Eye 2.
In 2005 she won the Best Actress Award at the 2005 Golden Horse Awards for her three roles in Hou Hsiao-Hsien's Three Times.
In 2008 she was member of the jury of the Berlinale, the Berlin International Film Festival.